Traditional Culture
"Tanakui awase"
"Tanakui" is another name for Tenugui. "Tanakui awase" was the first attempt at exhibiting Tenugui as art, by Santo Kyoden, in Tenmei Year 4 (1784). This exhibition near Ueno Shinobazu pond was revolutionary, showing the joy of Tenugui designs as art. Some connoisseurs competed with their unique designs of Tenugui to show their sophisticated knowledge hidden in designs.
Some connoisseurs are Matsudaira Sessen (an artistic feudal lord from Matsue), well-known artist Sakai Houitsu, Kuwagata Keisai, Kitagawa Utamaro (fifth Ichikawa Danjuro), and more. Some Tenugui designs were by dancers, merchants, and even Kyoden's younger sister Yone, who was age 14 at that time.
It is stunning how Kyoden came up with this unprecedented exhibition during the Edo period, which had a strict class system. It is amazing how unique those Tenugui designs were. The first generation, Kawakami, spent half a century to re-create those Tenugui designs with great respect and sincere remembrance of those artists.
Edo, Showa, Heisei, Reiwa eras: "Tenugui Awase" by Fujiya's three generations. We sincerely hope our Tenugui will amuse you in the world of Tenugui art.
Keiji Kawakami
Chihiro Kawakami
Masahiro Kawakami
History of Tenugui
Tenugui has a long history that goes back to the Nara (AD 710-784) and Heian (AD 794-1185) periods.
The original Tenugui were used for Shinto ceremonies and festivals.
During that period, people used hemp and high-class people used silk for Tenugui.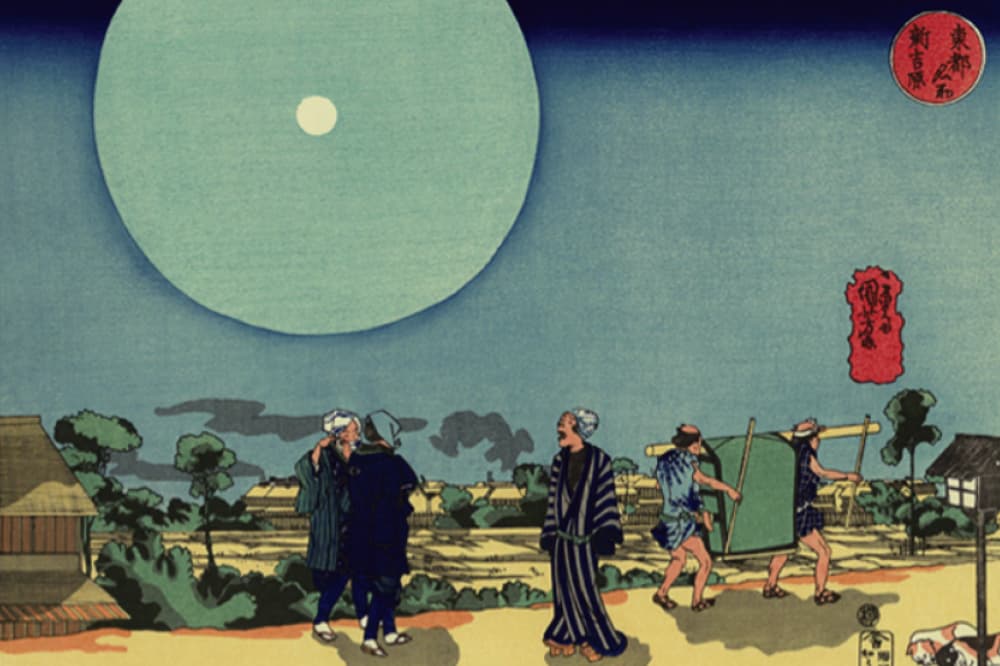 Kuniyoshi's "Toto Famous Place Shin-Yoshiwara"
During the Edo period (1600-1868), cotton production increased and cotton Tenugui became essential to their lifestyle.
Tenugui was widely used like a towel and handkerchief and when Kabuki and Edo culture developed, more designs and patterns became popular.
Tenugui became a fashion statement for stylish people.
During this time, Tenugui which started as a Shinto ceremonial item came to be used as a headpiece and a cloth to cover the head, expanding freedom of use.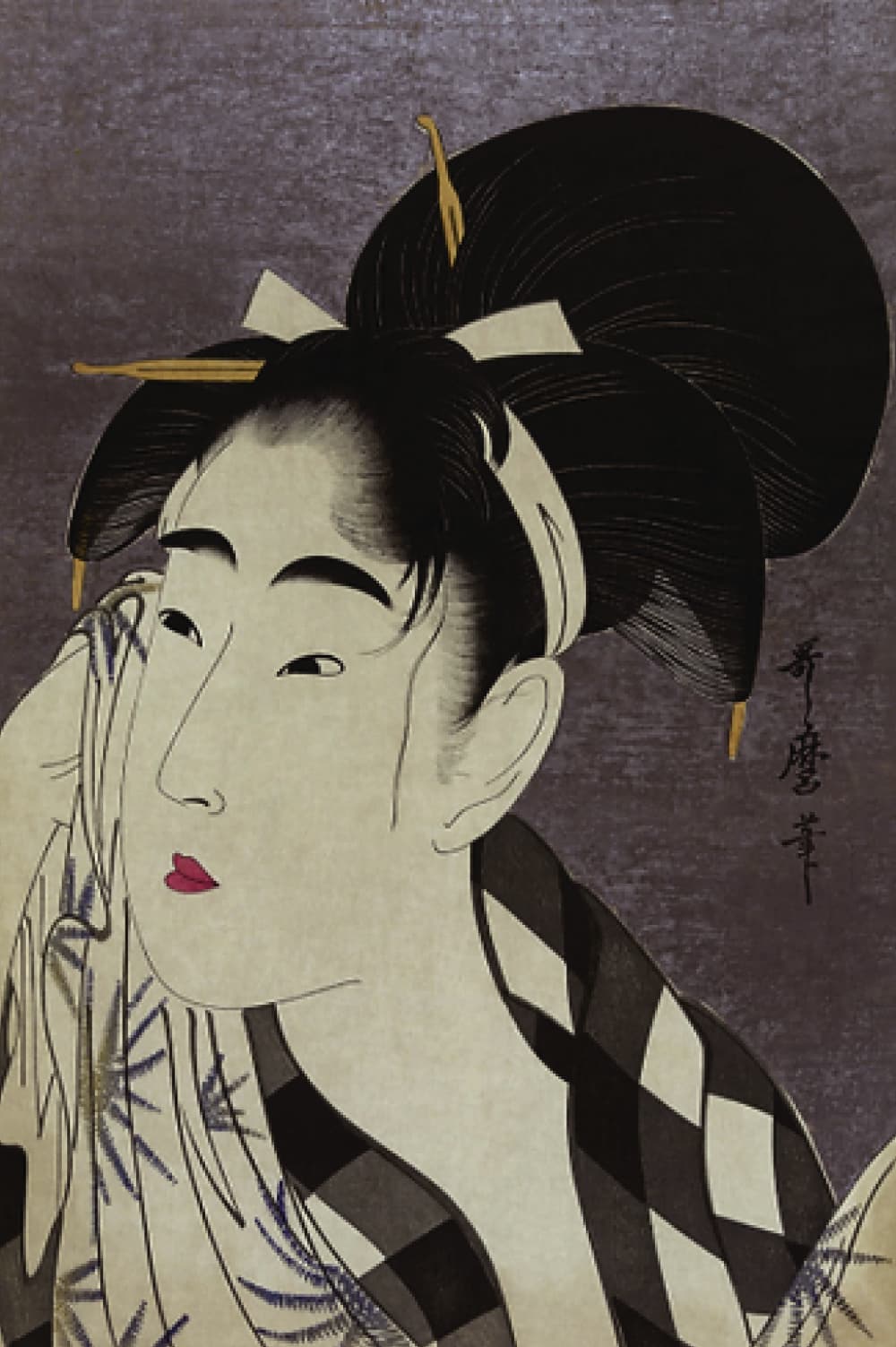 Uta painting "Woman who wipes sweat"
Use Tenugui wrapped around head during farming Kabuki actors, story tellers, and Sumo wrestlers started to give their personally-designed Tenugui to their fans as a gift or name card.
Merchants started to give their personalized Tenugui as seasonal gifts and celebrations of New Years, summer greetings, etc.
Tenugui was given as a good luck gift.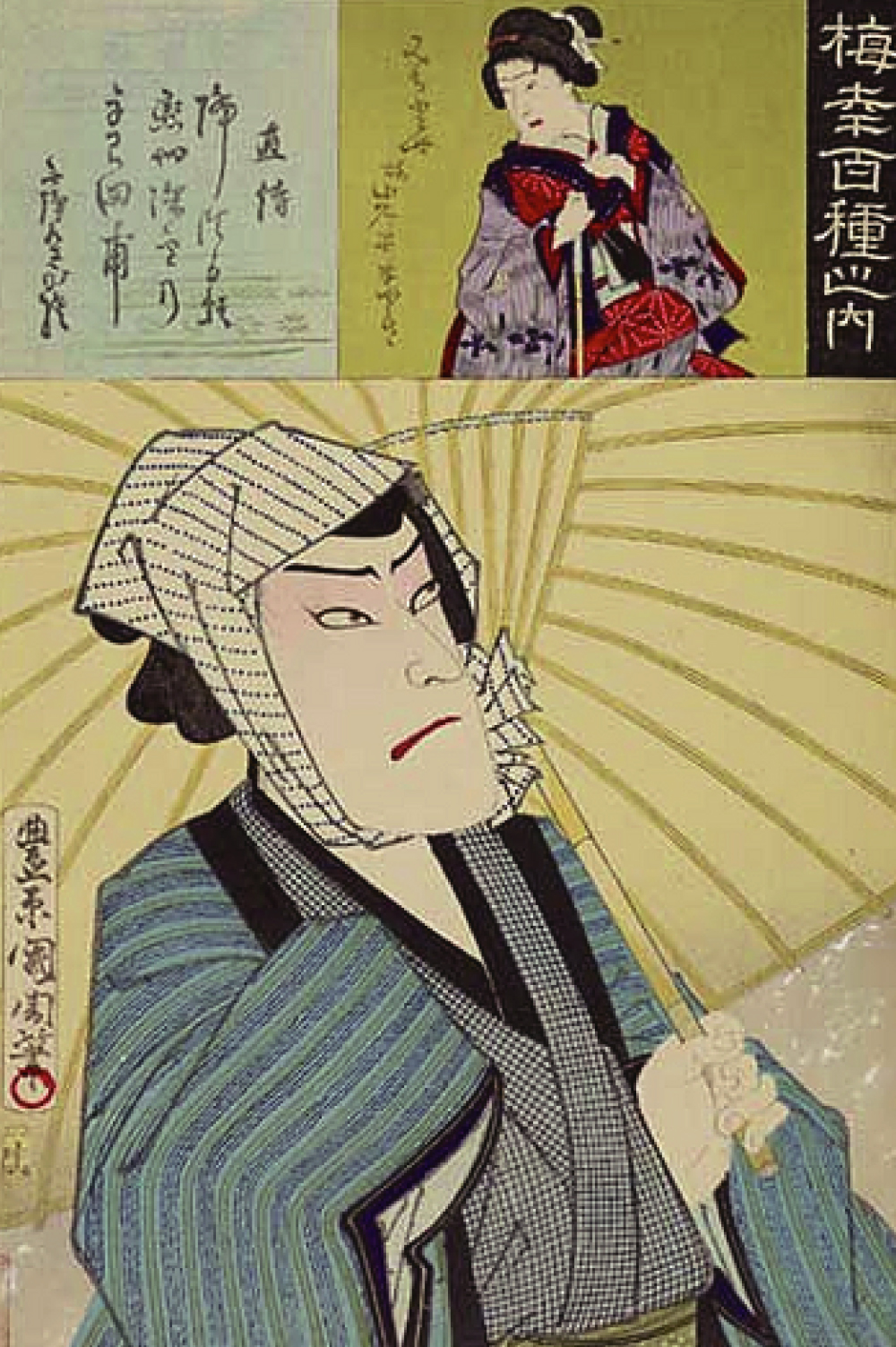 Toyohara Kunichi's painting "Nao Samurai"
Tenugui as a gift became popular as a thank you for full house entertainment, wishing good business, and in appreciation for recovery from sickness. People put their thoughts into the design of such gifted Tenugui.
From Shinto ceremony to daily essentials, and personal gift or fashion statement, people used Tenugui with a free mindset.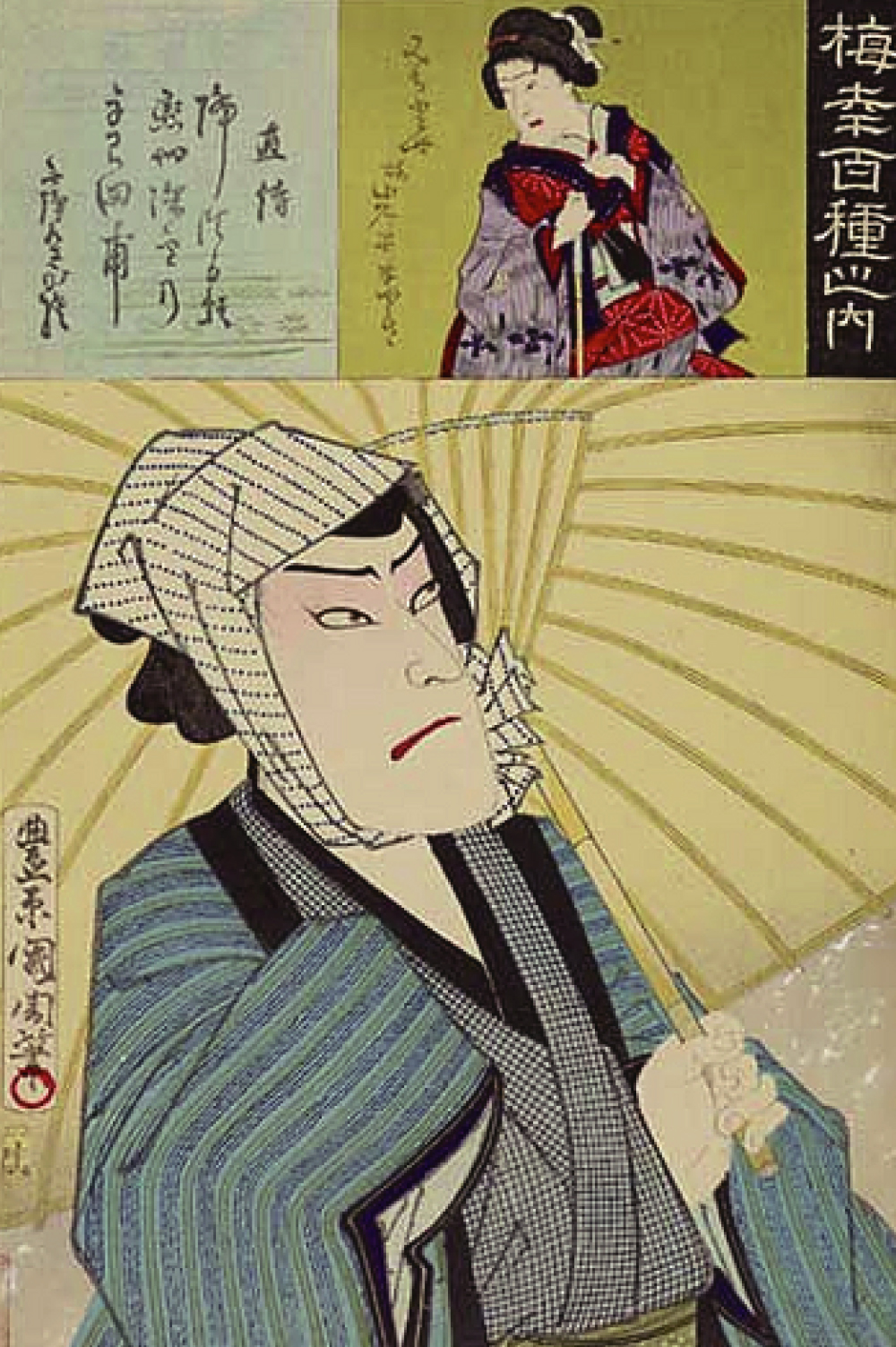 Toyohara Kunichi's painting "Nao Samurai"

Collection of Shimada Museum
Before the Edo period started, the well-known samurai Akechi Mitsuhide's daughter Akechi Tamako (aka Hosokawa Garasha) was going to get married with a samurai of the Hosokawa family. She brought Tenugui designed with both family crests as a marriage belonging. The Tenugui is designed with Akechi family's crest of Kikyo (Chinese bellflower) and Hosokawa family's crest of Kyurosei (nine-planet crest).
This Tenugui is dyed very beautifully with indigo and astringent persimmon. This is known as the oldest Tenugui with a family crest.

Collection of Shimada Museum
Also, Tamako (Hosokawa Garasha) was interested in dye colors. She dyed a new design pattern on an old kimono to revitalize it. Based on this episode, in the Tenugui industry, the method of applying many layers of dye is called "Hosokawa".